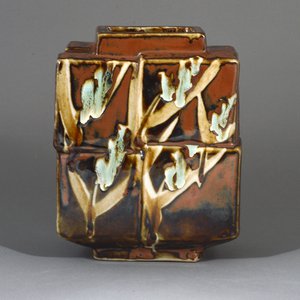 LOT 8
KIMURA ICHIRO
Mashiko Henko-Jar
Stoneware, flattened form with juxtaposed square sections to each face, rich persimmon glaze with green ash branch motifs and celadon splashes, impressed maker's mark. Together with a signed wooden Box.
H 23.5cm, W 18cm, D 9.5cm
PROVENANCE: The T.F.G. Jones Collection of Japanese Ceramics. BIOGRAPHY: Kimura Ichiro studied with Hamada Shoji from 1935 before establishing his own kiln in 1947. He has shown in important exhibitions across Japan, including at the Tokyo National Museum in 1964 and the Mashiko Ceramic Art Museum held a retrospective of Kimura in 1998. Although not widely known in the West he is considered one of the master potters of the Mashiko region.
CONDITION: Perfect condition with no damage or restoration
Estimate :
£1,200 - £1,800