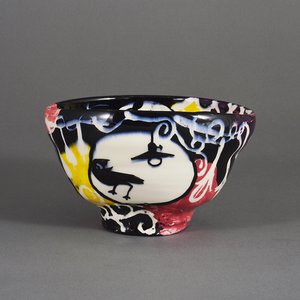 LOT 240
GORO SUZUKI
Los Oribe Chawan or Tea Bowl
Porcelain, bright enamel glazes in blue, red and yellow with crows, a light bulb and fuchsia flowers in roundels, incised maker's mark. Together with a signed wooden Box, painted with crows.
H 7.5cm, D 12cm
PROVENANCE: The T.F.G Jones Collection of Japanese Ceramics.
BIOGRAPHY: Suzuki Goro has developed a unique way of expressing himself through ceramics, basing his work on traditional styles from the Mino tradition: Shino, Oribe, yellow and black Seto and the Karatsu tradition. His works, which have a strong sense of individualism, include tea bowls with colorful painted imagery from contemporary life inspired by a visit to Los Angeles. He is also known for his life size chairs as well as being a master of more traditional pieces. In 2002, Suzuki Goro received the prestigious Japan Ceramic Society Prize.
CONDITION: Perfect condition with no damage or restoration
Estimate :
£1,200 - £1,800
Item not sold:
Reserve was not met
3432
Bidding Ended :
Thursday, 12 September 2013 18:33:00